With no maritime boundaries, the Kingdom of Bhutan is a landlocked country bounded by India and China. Surrounded by dramatic mountainous landscapes, monasteries, dzongs, valleys, and subtropical plains, this region can be a dream destination for honeymooners.
This south-central Asian country perched on the easter edge of the great Himalayas ensure serene and adventure tours to make your honeymoon memories impeccable. Connect with your tour guide and choose the best Bhutan honeymoon tours package that suits your budget and need.
River and mountain-view hotels let you cherish moments in the best way possible. A good number of tourist places sit in the country is enough to turn your holiday incredible. Get budget-friendly, luxury accommodations in prime locations in Bhutan. Tour guides are there to set up all your accommodation requirements.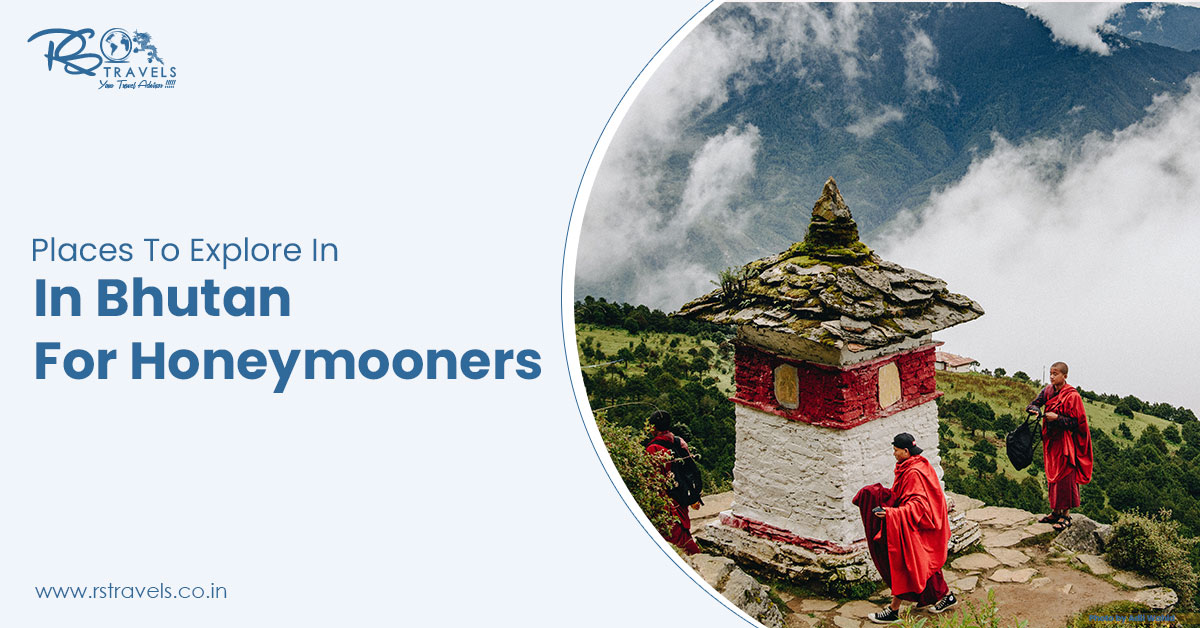 Find out some best places for honeymooners
A wide range of honeymoon destinations in Bhutan sets you free from conventional sea site romance. Let's know:
Paro valley town is one of the exclusive destinations to spend your holiday, honeymoon, or adventure days. The richness of scenarios, sacred sites, and age-old buildings in Paro together offer a perfect holiday retreat. From Thimphu, it takes around 1hr to approach this valley town. It has wonderful restaurants and cafes, iconic museums, surreal sunrise, ancient monasteries, outdoor sports, and further that a honeymoon requires.
Haa Valley belongs to the Haa district in the west of Bhutan. The view offered by Haa Valley is a concoction of thrill and serenity. With green mountainous vistas forming the surrounding, this splendid valley connects Paro, Samtse, and Chhukha. Lhakhang Karpo and Lhakhang Nagpo are popular temples here established in the 7th century, known as the white temple and black temple respectively. Experience the best of hiking in Haa valley.
Punakha is a spectacular city in this Buddhist Kingdom best known for Punakha Dzong. It's a 17th-century fortress at the juncture of two rivers Pho and Mo. Getting river face accommodation here is an absolutely matchless experience. Crossing Punakha Suspension Bridge is one of the best outdoor activities enjoyed in the region.
Thimphu, the capital of the Buddhist Kingdom of Bhutan, houses a valley perched in the western interior. An ideal blend of traditional and modern splendour, Thimphu is replete with stunning landscapes to let you indulge in its all-inclusive grandeur. Reach out to your tour operator for the Bhutan honeymoon tours package, involving transportation, accommodation, and other inclusive assistance.
Tashichho Dzong, National Memorial Chorten, colourful festivals, Buddha Dordenma, Dochula Pass, National Folk Heritage Museum, Dechen Phodrang Monastery, Motithang Takin Preserve, Royal Botanical Garden, Gangtey Monastery, National Institute For Zorig Chusum, Simply Bhutan, Handicraft Market, Ludrong Memorial Garden, and Sangaygang are some exquisite places to explore in and around the capital of Thimphu.
---